With a view to convert awareness into action, MIC has launched its nationwide Action Implementation Movement - AIM and transforming insights into reality with the paradigm shift and by maintaining self-discipline always ON. We are redefining, rewiring and reconditioning the brain to lean into positivity to rewrite destiny with 5 F Matrix and building conscious community. Every road user has to adopt road safety oath which is a promise to prove their actions and behavior on roads. We are burning negativity thereby feeding controlled input to subconscious mind to get controlled output to achieve a common smart goal of 360 degree reversal to road accident deaths in India by 2030.
Burn up your negativity before it burns you up.
Write down all these below negative affirmation points with your own hand writing on a yellow colour paper with red pen and burn it with matchstick or lighter
1. Violating traffic rule
2. Driving without obtaining proper license.
3. Not wearing helmet and or safety seatbelt
4. Mind wandering & self talking when on road
5. Driving under the influence of alcohol / drugs / sleepiness / tiredness.
6. Using mobile phone while moving on roads
7. Over-speeding & overloading and also overtaking from left.
8. Instigating and indulging in road rage incidents
9. Looking for the presence of traffic police and jumping red light at Traffic signal point.
10. Changing lanes frequently
11. Blocking free passage for ambulance
12. Starting late from the origin and rushing to the destination.
13. Bribing traffic police when caught on traffic violation.
14. Driving closely to front vehicle
15. Not maintaining sufficient 3 feet distance from left and right sides of my vehicle.
16. Honking unnecessarily
17. Watching car and bike racing games in TV or mobile phone
18. Ignoring road traffic risk and hazards.
19. Giving preference to convenience over safety
20. Taking turn without giving indication in advance.
21. Moving forward without seeing and assuming the risk at left and right side.
22. Ignoring the road crash victim for extending help.
23. Not implementing road safety awareness and intelligence into action.
24. Not maintaining self-discipline on roads.
25. Blaming others for daily road accident deaths.
26. A Belief I know everything.
After burning the above negativity, click on the below button of appropriate category to register for adopting the positive self affirmation by way of road safety oath.
Kiara Mittal - National Ambassador For Road Safety - Form Mumbai - Rewrites Destiny
Redefining the negative affirmation messages of 3 Wise Monkeys of Mahatama Gandhi Ji with positive affirmation messages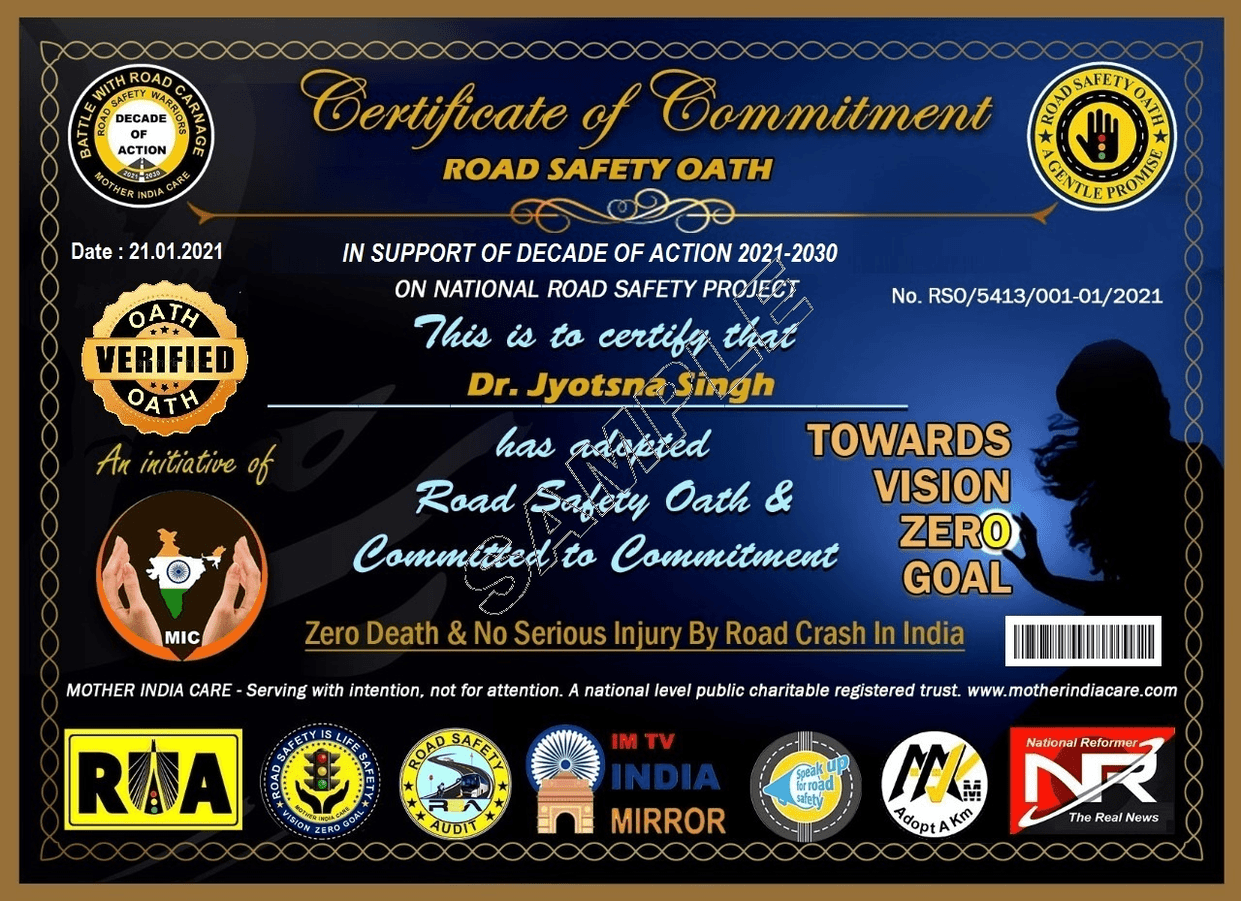 Chain of accident relief centers - ARCs will be set up across India, from the proceeds of commitment bond of road safety oath.